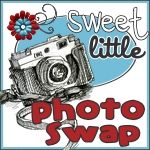 My favorite photos of the week.....
Makenzie and her new friend Mariah on a play date!
Being adventurous
My future Fairmont Cardinal Football Star... Just like his daddy
She looks soo old here!! Please make her stop growing up soo fast
Miss attitude!! lol
Hanging out with Uncle D on fight night!!
Grandpa came over to play
Pool time! =)
Taking a snooze on our play date!
Loves his new sleeper!!
Hope everyone has a safe and fun 4th of July!!